Finding And Keeping Your Centre: Taking Care Of Ourselves In Order To Be Of Service To Others
Teacher: Tessa Pretorius
Cost: 2 day's accommodation + R350 surcharge
Dates: Friday 28 July 2023 - Sunday 30 July 2023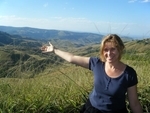 Why is it so difficult for us to be kind or gentle or good to ourselves? Perhaps it is because we have grown up within the paradigm that 'good people put the needs of others first'. In other words, we believe that we need to sacrifice ourselves in order to show we care. Or, it could just be that finding time for self-care just means one more thing on the already unobtainable to-do-list. But what if caring for ourselves wasn't that difficult? What if, by a few simple adjustments or re-tuning of your emotions, thoughts or attitude patterns, we could find that calm place on the merry-go-round where we were at our best and could deal with and handle what life throws at us with style. The Buddha's teachings emphasise the importance of taking care of ourselves in order to be of service to others. The wisdom of this teaching tells us that when we are kind and good to ourselves, we are automatically much more so to others.
View teacher details
Tessa Pretorius is an ex-trauma counsellor, activist, philosopher and writer, and has been facilitating workshops on self-care and mindfulness for over sixteen years. She was trained by Patricia Cane (founder and creator of Capacitar International) whose work she has incorporated into training programmes for NGO's, hospitals, members of the justice system, the SAPS, the corporate sector and at various retreat centres. She believes self-care is essential for personal well-being and, as in Buddhist practice, essential to be of service to others. Tessa and her dog, Maggie, live at Emoyeni Retreat in the Magaliesberg.