Yin And Yang: A Yoga Retreat: Release, relax and restore
Teacher: Georgie Carter
Cost: 2 days' accommodation + R200 surcharge
Dates: Friday 02 March 2018 - Sunday 04 March 2018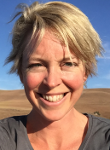 Yin Yoga is the balance to our Yang lifestyle. In today's busy world we are inundated with the pressure to do more, take on yet more and push ourselves even more. This retreat provides a balance to our often frenetic, stressful lives and will restore harmony, health and calmness. In relaxing our muscles and surrendering into our yoga postures, we are able to work deeply into the joints, ligaments, fascia and bones of the body - releasing tension and detoxifying normally inaccessible parts of our bodies. This retreat is centred around releasing, relaxing and restoring our bodies, our minds and our energy and is suitable for everyone. Please bring your own yoga mats. 
View teacher details
Georgie Carter has been practising Hatha yoga for 8 years. She completed her 200-hour teacher training with The Jivananda Centre for Well-Being in 2010 and an intensive Iyengar yoga course in Rishikesh with Usha Devi in 2015. Her passion is to apply yoga to everyday life to help find a balanced and  a better way to manage daily challenges, so as  to live  a more loving, compassionate and purposeful life. She has travelled to India many times to deepen her practice. She currently lives in the Natal midlands, where she teaches yoga.