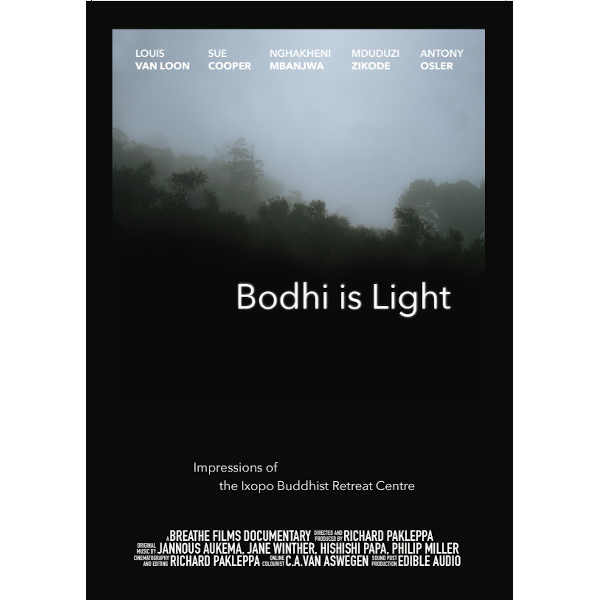 The evocative documentary on the BRC "Bodhi Is Light" - Impressions of the BRC - has just been released by the renowned film maker, Richard Pakleppa.
Moved by his experience of a silent retreat, Richard shares impressions of South Africa's first Buddhist Retreat Centre in Ixopo, Kwazulu Natal. Through his camera lens and his 'inner eye', he has captured the spirit of place and people and the heartbeat of the Ixopo valley. The film's authenticity is a stirring tribute to the BRC as a space of spiritual friendship and soothing silence, far removed from everyday life. In Richard's words, the film "has many layers - focusing on Louis van Loon's personal journey, the journey of creating the space of the BRC, the fellow travellers and their take on the deep and far-ranging fundamentals of a Buddhist world view and practice". The visual narrative follows nature and the ever-changing elements to touch moments when the mind is awakened to discover its own nature. Observing the mist rising and the dew falling, the film takes us into what happens when we choose to take refuge in silence. "Bodhi is Light" is a celebration of the many women and men who built and sustained this unique place over the last forty-three years.
"This is a beautiful film and a beautiful tribute to Louis and to all that passed through him. So many minds, hearts and bodies tuning into the Old Way." - Antony Osler
"You are completely immersed and really enjoying yourself. I love the film. I want to go on a silent retreat right now." Leo Regan - Irish Film Maker
Trailer
We include the trailer - as a taster - and hope that those who share a history and a deep connection with the Centre will support the film.
Donate to see the full video
If you would like to view the whole film, please apply for the link at: and consider making a donation of R200 or more in order to preserve the ongoing work of the Centre. We enclose banking details.
Please reference with your Name/ Film.
All funds raised from this film will be allocated towards ensuring the financial health, longevity and welfare of the Centre into the future. Please help us to realise this goal.
Bank deposit:
Account: Buddhist Institute of S.A.
Bank: FNB
Branch: Ixopo (No: 220223)
Account No: 52555029829
For international payments:
Swift Code: FIRNZAJJ or FIRNZAJJ824
Please use your NAME and FILM
as reference on your payments
then email with your proof of payment, requesting the link to the film.