During the 1960's, the Departments of Religious Studies and Philosophy at South African universities arranged a series of public lectures on ethical subjects, such as euthanasia, professional secrecy, suicide and so on. I was then practicing as an architect and civil engineer, but was also an enthusiastic student of eastern philosophy - in particular, Buddhism. I noticed that the lecturers were largely ignorant of the teachings of the Buddha. I therefore made contributions to the debates from a Buddhist perspective, from the floor, as a member of the audience. I felt that it could add a vital element to our understanding of how religions and philosophies can throw a useful perspective on contemporary social problems.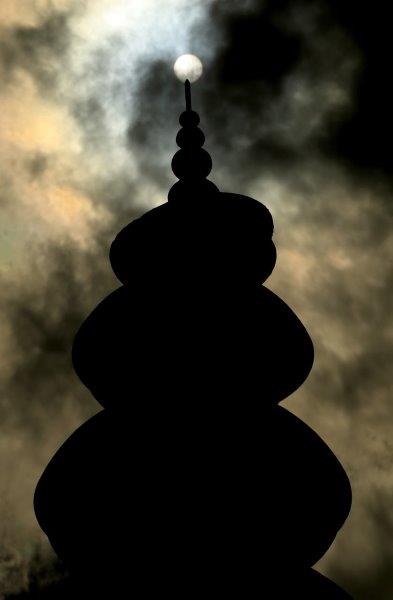 When this happened a few times, the Departments of Religious Studies at UCT and UDW asked me to teach Buddhism alongside the other religions at their institutions. This I did for four years, in addition to presenting scholarly papers at the various conferences they organised. On the basis of these contributions, I was given an honorary Master of Philosophy status, which satisfied my academic colleagues that I had become a legitimate member of their elite community……
I continued to teach at these universities, travelling between them, whilst running my professional practice as an architect and structural engineer that took me to my offices in Durban, Cape Town, Johannesburg, Salisbury and Nairobi whilst constructing the BRC. I was somewhat busy in those days …..
Sacred spaces
These developments spurred me on to create a place in South Africa dedicated to the study and practice of this fine philosophy - as a result of which I bought and developed the 125 hectare BRC property in Ixopo as a retreat centre. We ran our first retreat in April 1980.
I was urged by my peers at UDW and UCT to join their permanent staff and formalise my status as a member of their Departments by writing a doctorate thesis. I decided that I would combine my profession as an architect and my newly acquired status as a university lecturer. I therefore chose to do some research into the way humans have, since ancient times, tried to find and create sacredness and divinity in their environment – from mountains like Mount Abu in Australia to monumental rock constructions like Stonehenge in England, Buddhist cave monasteries such as one finds in China, and pyramids and bushman ritual paintings under rock overhangs in South Africa. I started to collect information about all this, but when that grew into a mountain of references that was as tall as my forearm was long, I abandoned the idea and burned it, one sheet at a time, in a lovely log fire in the company of a glass or two of brandy.
A pagoda or stupa is such a sacred space - as is a labyrinth, such as we have at the BRC. We have just inaugurated our latest addition: the Buddha Boma: a tranquil place in which one can go on a mini Buddhist pilgrimage, circumambulating the eight trees associated with the Buddha's life and teachings, in the midst of which is a lovely roofed octagonal pavilion in which to spend quiet time and meditate. This sacred space will be used to commemorate and celebrate special occasions, such as graduations, engagements and weddings. Contact us if you want to know more.
Spires to heaven
Next time you visit the BRC, have a look at the spires that sit atop the Stupa and the Buddha Boma pavilion. They are a collection of Indian religious devotional brass vessels, lotis, that were welded to a spire and copper cable that acts as a lightning conductor. The little devotional pagoda halfway down the path to the Boma, opposite the labyrinth, was donated by a group of Burmese doctors when they settled in South Africa for a few years in the 1980's. This too has been adorned with such a spire.
So – this new addition to the BRC is, like so many other features at the BRC, the material evidence of the support the BRC enjoys from those who wish it well! Please keep it up! Thank you, all.
Louis