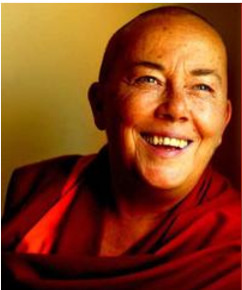 "Happiness is really simple: it's what you get when you give up attachment and the other neuroses."
Australian ex-political activist and feminist, Robina Courtin, has been a Buddhist nun since 1978. Teaching Buddhism around the world, Robina shatters the stereotype of a Buddhist nun, her intense and direct style leaving an indelible impression on everyone she meets.
The Heart Sutra: How To Find Our True Happiness
14-16 December 2018
The Buddhist Retreat Centre, Ixopo
+27 [0]87 809 1687


Be Your Own Therapist

13 December 2018
Session 1: 2-4 p.m. &/or
Session 2: 6:30-8:30 p.m.
Drikung Samtenling Meditation Centre
Gillits
RSVP: 031 7641219