Yin Yoga (online)
Teacher: Christine Withiel
Cost: Donation to support the BRC during the COVID-19 lockdown
Dates: Thursday 09 July 2020 - Thursday 09 July 2020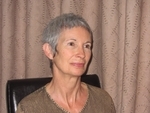 Yin yoga is a practice for quietening the mind, the body and the breath. A time to sense what is held in the body, and to let go. Stress creates patterns in the body which become habits which set into posture. Yin yoga is a gentle way of easing the tissues back to their original patterns. In a yin yoga class, we move into a posture as far as your body goes comfortably, we call this the edge, we hold the posture for a few minutes in stillness. You will need a yoga mat, a block and a folded blanket.
2; 9 July | 5:30-7:00pm
https://us02web.zoom.us/j/87308227449?pwd=SlBTT2NJTEthWjNNT1Zqc3RKT0Q4QT09
Meeting ID: 873 0822 7449
Password: breathe

View teacher details
Christine Withiel is passionate about yoga and sharing the teachings. She runs 200-hour Yoga Teacher Training Courses at the Jivananda Centre in Durban North. She is a member of the 500-hour teacher training team at Anand Prakash ashram in Rishikesh, India. She is a member of the Township Yogi project which trains yoga teachers in the townships and supports the teachers in the community.