Dear Retreatant
BRC Newsflash: 3 to 31 May 2019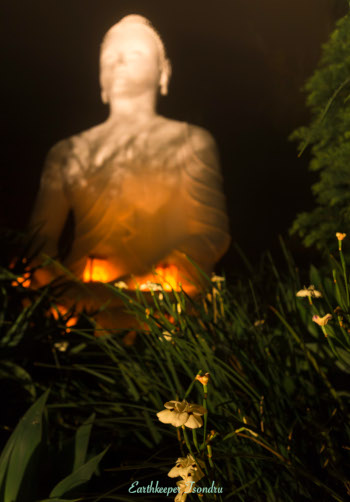 Summary of retreats at the BRC May 2019-April 2020 calendar attached
Forthcoming Retreats: 3 to 31 May 2019
BRC estate honey is available from our Shop
Quiet Food and Plentiful: The Big Book Of Buddha Food are available in the shop. They can also be posted to you. Please contact the BRC office

"The Wilderness Within" - Meditation and Wilderness Trail in Umfolozi Game reserve with Tibetan Buddhist Nun, Ani Tsondru from 3-7 October See attached flyer for further infomation
Join Chris Dalzell in August on a tour of one of the true wonders of the world, Namaqualand. Every spring this dry landscape comes alive for 6 weeks with carpets of flowers which is a spectacular sight - not to be missed. See attached flyer for further information or contact Chris on:

or on 0845539832
Pilgrimage to India, October 2019. Erika van Greunen is again offering an opportunity for two sets of teachings: with the most famous Buddhist in the world, the Dalai Lama, in quaint Dharamsala. And then a series of empowerments in the beyul, the sacred hidden land of Sikkim, nestling at the feet of Kanchenjunga, third highest Himalayan peak, by the 12th Gyaltsab Rinpoche, one of the world's secret yogis. For more details, please contact Erika on

; 084 604 9931.
Teacher's Dana. Without our retreatants' support and attendance, there would be no BRC, and without our teachers, the Centre would be unthinkable. In keeping with ancient Buddhist tradition, the Dharma is offered at no charge, and teachers are not paid a fee for their teachings. Some teachers rely soley on Dana for their living expenses. We therefore encourage you to offer Teacher's Dana (Generosity) from your heart at the end of your stay, with an awareness that it is your generous financial support/ Dana which enables our teachers to continue offering their teachings at our Centre
The road to "Nirvana" : Our entrance road has served us faithfully for the past 38 years, but is in dire need of repaving, all 400 meters of it! We are appealing to all our supporters to help fund the new road, meter by meter at R 200 per meter. We are hoping to raise the R80,000 needed to upgrade the road. If you would like to support our appeal, and donate, please contact the office
The new BRC calendar of retreats from May 2019 to April 2020 is published on our website. You will find it at www.brcixopo.co.za
Indeed, the common good for the tribe was often experienced as stifling by some its members. The Buddha was a case in point. I discussed his ruminations about this in a recent newsletter in which I dwelled on the reasons why the Buddha chose to become a mendicant celibate monk rather than wallow in the luxury and security of a royal court - as was his destiny as the son of a chieftain who ruled a small kingdom in the north of India.
I experienced such a mini Brexit at the age of twenty when I felt uneasy about a future that was waiting for me to embrace, but about which I felt acutely uncomfortable. Unlike the Buddha, I did not have any royal robes to discard or pony tail to cut off, but I shared his urge to be free from the expectations and constrictions my parents and society had started to impose on me, even though they had done so with the very best of intentions.
I recall the feeling of exhilaration when I descended the gangplank of the ship that had brought me from Holland to Cape Town, dragging my two suitcases behind me. One was filled with my clothes and meagre personal belongings; the other with brushes and tubes of paint. I had come across the work of some of South Africa's painters, like Tretchikoff, and conceitedly felt that my art was good enough to take my place amongst them. The hunger pains in my stomach soon told me a different story….
I had arranged to join the staff of a Durban-based civil engineer who had a branch office in Sasolburg. When I arrived in that town, I felt all my enthusiasm for being in South Africa drain out of me - and with that my zest for becoming an artist. Those mine dumps!
One cannot, of course, be sure that exchanging an existing situation with an entirely new and untested one will work out satisfactorily. That often paralyses most people and results in sullen inaction. We are then back with the Buddha's teachings - The Four Noble Truths - the first of which tells us that it is inevitable that you will find yourself, whether you like it or not, in unpleasant situations in life, but that this is part of having been born into a world that is unpredictable and fickle.
"Just living is not enough; one must have sunshine, freedom, and a little flower" - Hans Christian Anderson
The magazine, Holistica: Wellbeing For Everyone is featuring the BRC in their second edition in May entitled "Magical Spaces".
We are looking forward to welcoming international teachers: Ajahn Sucitto and John Peacock in 2020. We will keep you informed.
Live kindly,
Louis
This retreat will help participants discover how to still the mind and access the power of presence, opening them up to greater levels of happiness and creativity.
John Homewood | Weekend: May 3-5
Read more...
Going deeper into the process of awakening, this extended retreat will take participants further into the powerful space beyond the mind and will include wisdom teachings and counselling sessions, guided meditation and chi kung.
John Homewood | 2 days: May 5-7
Read more...
Yin yoga provides the balance to your hectic yang lifestyle. This retreat will focus on releasing, relaxing and restoring yourself.
Georgie Carter | Weekend: May 10-12
Read more...
Celebrate 25 centuries of Buddhism, commemorating the birth, enlightenment and death of the Buddha. Experience a lantern-lit circumambulation under the full moon, traditional chanting and meditation over an introspective weekend.
Louis van Loon and Stephen Coan | Weekend: May 17-19
Read more...
Drumming connects us to ancient rhythms, facilitating a change in consciousness that leads to a sense of belonging, integration, well-being and deep levels of relaxation.
Richard Ellis and Marc Kress | Weekend: May 24-26
Read more...
Mindfulness is defined as knowing what is happening while it is happening, with an attitude of kindness and curiosity. In this retreat we will learn to rest in the present moment and disengage from our compulsive habits of doing.
Kerri Martinaglia and Carey Would | Weekend: May 31- June 2
Read more...
Enjoy some "alone" time on a Self-Retreat in the beautiful, indigenous setting of the BRC with chi kung, meditation, communing with nature, and enjoying the delicious vegetarian food for which the BRC is justly renowned.
Mid-week
Read more...


About the BRC
Perched on a ridge at the head of a valley in the Umkomaas river system in KwaZulu-Natal, the Buddhist Retreat Centre looks out on a vista of indigenous valleys, forests and rolling hills receding like waves in the blue distance. Here, for thirty-nine years, people of all religions and none have come to experience peace and tranquility. It is a gentle, sympathetic space where one can be still and get in touch with oneself and reflect on the things that crowd one's life.
The BRC was voted by CNN as one of the ten best meditation centres in the world.
CNN Travel awarded another feather in the BRC's cap by voting it as one of the ten best spiritual centres in South Africa, recently.
The BRC was awarded Natural Heritage status in 1995 under the auspices of the Department of Environmental affairs and received a certificate to that effect signed by President Nelson Mandela for turning an eroded farm into the natural paradise it has become - thousands of indigenous trees were planted by retreatants under the supervision of Mervyn Croft - with 160 species of birds, including the Blue Swallow, otter, deer, antbear and indigenous forests. The Centre was also given the special status of "Custodian of the Blue Swallow" for its work in preserving the breeding areas of this endangered bird.
The BRC facilitated the founding of Woza Moya, the community-based NGO, located in Ufafa Valley, nineteen years ago, on the estate. Their vision is for all people in the community to be healthy and productive, living in a safe and clean environment, with good access to services and social justice. The Centre continues to support the organisation in a variety of ways by contributing Dana, sponsoring their trainers', visitors' and Directors' accommodation, and showcasing and promoting their wonderful crafts in the shop such as the sock monkeys, cushions, bags, scarves, beanies and stationery. The Woza Moya Crafters are local women who receive ongoing training and support to enable them to create these unique and charming best sellers. This year as a result of retreatants' Dana (Generosity), the BRC was able to donate R24,000 to Woza Moyà to further enable their good work among the community.
Become a friend of the Centre and find out more about the BRC's "Paid-Up-Yogi and Sangha Friends" and "Road to Nirvana" projects all of which help to ensure the continuity of this non-profit organisation.
Thank you for the abundance that has flowed to the BRC in the form of "Paid-Up-Yogis" and Sangha Friends' contributions which have enabled us to refurbish the bathrooms in the Lodge, tile the entrance to the dining room and install a tea station in the Lodge for those hot cups of milo on the cooler misty nights. We are grateful for the truck-load of indigenous trees, herbs, seedlings and plants, a new granite kitchen server, a new canvas parasol for the outside umbrella, kitchen utensils, garden tools, books for our library, beautiful beige towels, soft new pillows, Woollies duvet covers, a coffee plunger, a marvellous collection of illustrated books on the Sumie tradition, some of which have been long out of print, a beautiful silk scarf for Louis from Sikkhim to use during the Chinese tea ceremony, Elsa Pooley's book on flowers for the library, a generous donation towards installing LED lights to reduce our energy consumption and stunning photographs from Andrew Brown, Marc Kornberger, Tsunma Tsondru and Lennart Eriksson and "Fairlady" magazine featuring the BRC. Recently the Centre received a generous donation of tables, crockery, ceramics, pillows, cushions, curtains and lanterns, as well as boxes of seedlings, fruit, cheese and olives, two beautiful stone bird baths, a new fire pit for meditation under the stars and a new noticeboard. We welcomed two new power drills, and the high-back oak chairs that now grace our meditation hall and a number of generous donations towards the re-paving of the entrance road to the BRC. We have been so touched by your appreciative letters, emails, support and friendship towards the BRC - your spiritual home from home.
The "Buddha Buzz" is that we now have pure natural honey produced from the estate. The project started when Rob Pooley, an apiarist from Botha's Hill, was consulted about the influx of bees into the buildings. He suggested placing catcher boxes to entice the bees away from the buildings, and to relocate them to an apiary site above the Deer Park. This worked remarkably well and over 40 hives were relocated to the apiary. However, the drought of 2015/2016 had a devastating effect and with a dearth of food, it led to a reduction of hives to 30. Good rains at the beginning of 2017/18 brought a wonderful resurgence to the flora, especially the Halleria Lucida (Tree Fuschia) which abounds at the Centre, and so far we harvested 450 kg of honey. Without the help of Colin and his staff during the drought in helping to feed the bees with a mixture of glucose and water, the results would not be so positive. May our bees remain happy and busy and may the honey flow.