Discovering The Mysteries Of 'Ubuntu' From The Perspective Of Traditional South African Healing (online)
Teacher: John Lockley
Cost: Donation to support the BRC during the COVID-19 lockdown
Dates: Sunday 28 June 2020 - Sunday 28 June 2020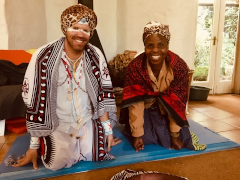 Ubuntu means 'I am what I am because of who we all are'. It first starts with the individual's decision to connect with their humanity and then this prayer or intention ripples out into the wider community, wilderness and spirit world.
Join Sangoma John Lockley as he helps you explore one of the oldest mystery teachings in Southern Africa; the circle of Ubuntu; what John sometimes refers to as 'African Zen'.
Our humanness is more than just our ability to think, it's about our ability to love.
This webinar will discuss traditional South African ideas around ancestors, dreams, plant medicine and the natural world. For more information about John and his work please see his book 'Leopard Warrior', audio teachings, 'The Way of the Leopard' and website www.johnlockley.com.
Time: 12:00-1:15pm
Register
View teacher details
John Lockley is a traditionally trained sangoma from the Xhosa culture, with over 20 years' experience. He was taught the essence of 'Ubuntu' by his Xhosa elders in the Eastern Cape. He has lectured and run retreats all over the world stressing the importance of 'Ubuntu' ('Humanness') and our need to unite as a human race and reconnect to our "bones and blood". The name he was given by his Xhosa teacher MaMngwevu in 1996 was 'Ucingolweendaba' which means "The messenger or bridge between people and cultures". This is an auspicious name and reflects his calling and mission to help bridge African spirituality and western psychology. John also has a background in Zen Buddhism and was a zen student under the late Zen Master Su Bong from South Korea. His recently published book "Leopard Warrior" is a bestseller and is an account of his pioneering journey in crossing the 'rubicon' or divide between white and black people in South Africa.