The Awakening Shift Experience: Realise your magnificence!
Teacher: John Homewood and Liz Kitching
Cost: 2 days' accommodation + R. 350 surcharge
Dates: Friday 07 April 2017 - Sunday 09 April 2017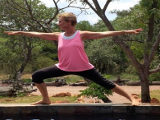 Dissolve your old paradigm…and heal now.
Shift now and live your potential.
This transformational workshop addresses three of life's most fundamental questions: Who am I? What do I really want? and What is my life's purpose? The uncovering of these answers is a liberating and powerful experience which changes not only the way we see ourselves, but also the way we see others and the world as a whole. The Shift Experience is based on John's own deep wisdom and insights, taking retreatants through a shift from head to heart. John also draws on enlightened teachings such as Eckhart Tolle's and A Course in Miracles. The retreat includes Wisdom teachings with practical exercises, guided meditations, simple yogic breathing and stretching exercises, quiet stillness interludes and question and answer sessions.
View teacher details
John Homewood 
is an international inspirational speaker, corporate trainer, personal growth facilitator and spiritual life coach. He is also an entrepreneur and founder of "Wisdom to Nourish". His early career in the corporate world was a steady climb from sales to senior management, and by the age of 30, became a director of a publicly listed company, before leaving to start his own business. He has a passion for expanding people's awareness and understanding of their potential and has the ability to impart deep truths in an easy and understandable way.
Liz Kitching has a passion for yoga and nutrition and is a natural health consultant specialising in shifting emotions through movement and breathing. She co-facilitates the Awakening Shift Experience spiritual retreats with John Homewood.