Relieve Anxiety, Depression And Trauma Through Mindfulness
Teacher: Heather Ferris and Gary Greenstein
Cost: 2 days' accommodation + R. 250 surcharge
Dates: Friday 13 January 2017 - Sunday 15 January 2017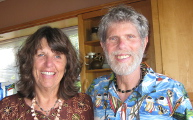 Deep awareness of our body and mind allows us to recognise our responses to life's challenges, which often manifest as uncomfortable - even chronic - physical and mental health conditions. Energy Psychology provides a powerful intervention by interrupting these negative conditions and our habitual responses to difficulties for long enough to bring about rest and healing through bodily movement.  This retreat is for counsellors and therapists and anyone who finds themselves in a supporting role with others.  To enhance the effect of this workshop, participants will be encouraged to observe periods of Noble Silence and join practice sessions during which we will share our experiences.
View teacher details
Heather Ferris
 is a psychotherapist, counsellor educator and clinical supervisor currently using a mindfulness and energy psychology approach. She teaches meditation with her husband Gary Greenstein, in British Columbia, Canada, having meditated in the Karma Kagyu tradition of Tibetan Buddhism for 24 years. She also works with hospice and trauma-affected communities in Canada and South Africa. She has written two books to support grieving children in South Africa: "Someone I Love Died" (in 5 local languages) and "I Am Not Alone". Her booklet "Mindfulness Awakening To A Meaningful Life" will be available shortly.
Gary Greenstein has practised meditation for 40 years in the Indian Vipassana and Tibetan traditions, and has taught in Canada and the U.S. His many teachers include Jack Kornfield and Joseph Goldstein.